Š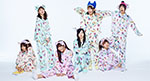 Cheeky Parade is a Japanese idol group formed in February 2012 by Avex and produced under the label iDOL Street.
They are also known as CheekyPa (チキパ).
It currently consists of 9 members.
Cheeky Parade is a sister group of Super☆Girls and GEM.
The meaning of the idol unit's name and its concept are : "a little impertinent dance and fashion".
The leader is Suzuki Yuriya.
Kodakari Momoka is the younger sister of former NMB48 Team M member Kodakari Yuka.
Suzuki Yuriya and Mariya are sisters. Their nickname is YuriMari (ゆりまり).
Biography / History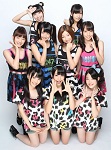 8 girls, with the exception of Kodakari Momoka, passed the Avex Idol Audition 2010 (avex アイドルオーディション2010) in December 2009. They debuted as members of iDOL Street Street-sei (ストリート生).
Cheeky Parade was officially formed in February 2012.
Their 1st single Cheeky Dreamer was released in April 2012.
In September 2012, the new logo used during their live performances has been unveiled. The character became the official mascot of the unit. Its name is Cheekiss (チィキス).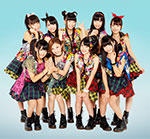 Cheeky Parade made their major label debut in January 2013 with the single Bunbun Nine9′. It reached the 4th position on the Oricon weekly ranking.
Their show CheekyPa Tsuushin (チキパ通信) is broadcast on YouTube. It follows the activities of the idol group.
Their 1st album was released in November 2013.
The members held their 1st concert Cheeky Parade Premium Live "The First" in March 2014 at Shinagawa Stellar Ball, Tokyo.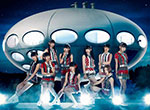 In June 2014, the girls participated in Kawaii Pop Fes in Hong Kong along with other idol groups.
Their 1st radio show Don ChikiPa! (ドンチキパ!) started broadcasting in September 2014 in collaboration with Don Quijote stores.
Sekine Yuna appeared in a commercial for Puccho candy in September 2014.
The members of Cheeky Parade were appointed as Japan Tax-free PR ambassadors in October 2014. The campaign aims to promote the new tax exemption system for foreign visitors to Japan.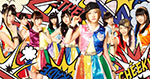 Cheeky Parade Live in New York was held in October 2014. This event was their first concert in USA. It was the final performance of Cheeky Parade Nine Lives Tour ~Road to NY~ held between April and October 2014 across Japan.
The 4th iDOL Street Sports Festival (第4回 秋の大運動会2014 ~アイドルの汗が眩しすぎンだよぉ!!~) was held in November 2014. Cheeky Parade, Super☆Girls and GEM took part in various sports challenges.
Sekine Yuna and Shimura Rika (Super☆Girls) and Kanazawa Yuki (GEM) make regular appearances on the show Harajuku Base (原宿ベース) on Chiba TV since January 2015. They talk about Harajuku fashion.
The girls participated in a marketing campaign for the video game Dairantou! Dragon Parade (大乱闘!!ドラゴンパレード) by Sega in January 2015. It is available on iOS and Android.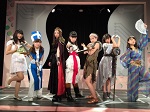 21 members from Cheeky Parade, Super☆Girls and GEM performed in the theater show Chouzetsu☆Utagekidan 2015 ~Super World☆Returns~ (超絶☆歌劇団 2015 ~Super World☆Returns~) at Tokyo DDD Aoyama Cross Theater in February 2015. Teams were led by Mizorogi Seran, Watanabe Koume and Murakami Rana.
Some members took a special certification exam organized by iDOL Street in March 2015. Suzuki Yuriya and Suzuki Mariya passed the test with 80 and 86 points, but Nizorogi Seran failed with 76 points. They received a commemorative badge and an invitation to a special event.
The girls host the regular program Cheeky Boot Channel since April 2015.
In May 2015, Suzuki Yuriya revealed that she owns 4 snakes. She loves pets.
Cheeky Parade Live House Tour ~Cheeky Boot Camp~ was held nationwide across Japan from May to June 2015.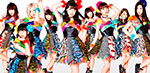 Kodakari Momoka appeared on Hirunandesu (ヒルナンデス) show in June 2015. Her character is noticeable for speaking Kansai dialect.
In June 2015, Suzuki Yuriya revealed that she likes playing the guitar.
A short dance movie titled Honnoji Incident (本能寺の変) featuring Watanabe Asami and Yamamoto Marin, and posted on Twitter, became a hot topic on the internet with a lot a views. It is inspired by a Japanese meme.
The title of the single [email protected], on sale in July 2015, stands for "Manifest of No.1 Star". The reason is that the aim of the idol group is to become number 1.
In October 2015, Cheeky Parade performed at Moshi Moshi Nippon Festival in Paris, France, and at Japan Expo 2015 in Los Angeles, USA.
In October 2015, the girls made a cameo appearance in the drama ~Mutsu Mieru Me~ (無痛~診える眼~).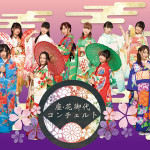 In November 2015, Nizorogi Seran (Cheeky Parade), Asakawa Nana, Maeshima Ami, Watanabe Koume (Super☆Girls), Murakami Rana, Iyama Maho, Morioka Yu, Oguri Kako, Takeda Maya, Minamiguchi Nana, Kanazawa Yuki (GEM), Matsunaga Nene (Girls Street Audition) were starring in the stage play Girls Street Theater 2015 Za Hana Miyo Concerto (座・花御代コンチェルト).
In November 2015, the idol group paid a tribute to Back to the Future on a poster and during a live performance.
In December 2015, Sekine Yuna, Suzuki Yuriya and Nizorogi Seran were models for a campaign for Don Quijote's cosplay collection Candy Parade. They were wearing various Santa Claus and Christmas costumes.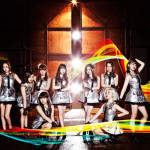 In January 2016, Yamamoto Marin and Suzuki Mariya announced that they were going to temporarily suspend activities during 2 years in order to study in Los Angeles with Takeda Maaya (GEM).
These 2 girls made their last appearance on Cheeky Parade's 6th single Sky Gate on sale in February 2016. The MV was filmed in Okinawa.
In April 2016, it was announced that the idol group changed its name to Chicken Party. Some photos of the members wearing chicken costumes were also unveiled. It was an April fool.
Suzuki Yuriya replaced Sekine Yuna as the new leader in June 2016.
Cheeky Parade participated in Japan Expo 2016 in Paris Nord Villepinte (France) in July 2016.
Yamamoto Marin and Suzuki Mariya left the idol group to study in Los Angeles in July 2016.
The idol group released the single Hands up! in September 2016. The song was written and composed Hige Driver, and arranged by his group HigedriVAN. The girls were wearing pajama outfits (kawaii style) in contradiction with the aggressive rock style of the song.
Related article :
Profile
Cheeky Parade (チィキィパレード)
Years active : 2012 – present
Label : iDOL Street
Agency : Avex Management
Members
Sekine Yuna (関根優那)
Watanabe Asami (渡辺亜紗美)
Shimazaki Rino (島﨑莉乃)
Suzuki Yuriya (鈴木友梨耶)
Nizorogi Seran (溝呂木世蘭)
Nagai Hina (永井日菜)
Kodakari Momoka (小鷹狩百花)
Yamamoto Marin (山本真凜)
Suzuki Mariya (鈴木真梨耶)
Discography
Singles
01/04/2012 : Cheeky Dreamer
09/01/2013 : Bunbun Nine9′
10/04/2013 : C.P.U !?
04/09/2013 : Mugendai Shoujo ∀ (無限大少女∀)
03/12/2014 : Candy Pop Galaxy Bomb / Kizuna Punky Rock
15/07/2015 : [email protected] / Colorful Starlight (カラフルスターライト)
24/02/2016 : Sky Gate
07/09/2016 : Hands up!
Albums
27/11/2013 : Cheeky Parade I
01/06/2016 : Cheeky Parade II
Mini-Albums
Links
News