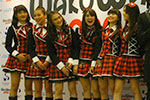 JKT48's 5th single Flying Get will be released on March 5.
The list of the Senbatsu members has been unveiled.
The announcement was made on February 16 at WakuWaku Japan Music Festival held at Jakarta Convention Center.
Flying Get is the tie-up song for the TV CM for WakuWaku Japan in which the members of JKT48 are making an appearance.
This single is a cover of AKB48's hit song Flying Get (フライングゲット) performed in Indonesian.
Senbatsu members
Team J : Melody Nurramdhani, Nabilah Ratna Ayu, Jessica Veranda, Shania Junianatha, Haruka Nakagawa, Devi Kinal Putri, Ayana Shahab, Sendy Ariani, Jessica Vania, Rezky Wiranti Dhike, Ghaida Farisya
Team KIII Team: Cindy Yuvia, Shinta Naomi, Queen Vienny Fitrilya, Viviyona Apriani, Alicia Chanzia
This is the first time that Ghaida Farisya, Sendy Ariani, Viviyona Apriani and Alicia Chanzia are part of the Senbatsu.
Tracklist
Flying Get
Hanikami Lollypop – Malu-malu Lollypop –
Dareka no Tame ni – Demi Seseorang – What Can I Do for Someone? –
Korogaru Ishi ni Nare – Jadilah Batu yang Berputar –
Heavy Rotation
Aitakatta – Ingin Bertemu –
Baby! Baby! Baby!
River
Fortune Cookie in Love – Fortune Cookie yang Mencinta –
Music Video (PV)