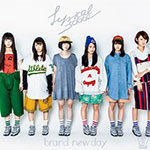 Lyrical School's new single Brand New Day will be released on April 2.
3 versions of Lyrical School's single are available.
The MV has been released.
The lyrics of the lead song Brand New Day were written by Little from Kick the Can Crew. The music was composed and arranged by AxSxE from Natsumen who worked with artists such as Kimura Kaela.
The coupling song was written and composed by Sensui Masacherry (ex Weekend). He has already made Maybe Love on Lyrical School's single Ribbon wo Kyutto (リボンをきゅっと) released in December 2012.
The Type A edition comes with a bonus DVD featuring live footage from Lyrical School.
The Type B edition includes 2 remix by Tofubeats and 521 as bonus tracks.
Tracklist
Regular Edition

CD

Brand New Day
Sing, Sing
Brand New Day (Instrumental)
Sing, Sing (Instrumental)

Type A

CD

Brand New Day
Sing, Sing
Brand New Day (Instrumental)
Sing, Sing (Instrumental)

DVD

Type B

CD

Brand New Day
Sing, Sing
Hitoribocchi no Labyrinth (ひとりぼっちのラビリンス) -Tofubeats Remix-
Ribbon wo Kyutto (リボンをきゅっと) -521 Remix-
Brand New Day (Instrumental)
Sing, Sing (Instrumental)
Music Video (PV)