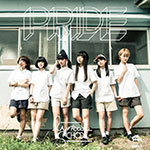 Lyrical School's new single Pride will be released on October 28th.
This single includes new versions of songs released by Lyrical School when the hip hop idol group was known as tengal6 .
The MV has been unveiled.
The lyrics of all songs were written by Iwabuchi Tatsuya. He had already worked with Lyrical School during their tengal6 era.
The music of the lead song was composed by Tsubomitsu Shigeki and arranged by Takahashi Kosuke.
The music of the B-side track was made by Ebbie East.
7 editions are available, including one for each member of the idol group.
Furthermore, Lyrical School will hold a live performance on November 2nd at Liquidroom, Tokyo.
Tracklist
Regular Edition

Pride
Nukegake (抜け駆け)
Pride (Instrumental)
Nukegake (Instrumental)
Ayaka ver.

Pride
Nukegake
tengal6 take 3
Pride (Instrumental)
Nukegake (Instrumental)
Minan ver.

Pride
Nukegake (抜け駆け)
Akikaze take 2
Pride (Instrumental)
Nukegake (Instrumental)
Hina ver.

Pride
Nukegake (抜け駆け)
Photograp take 2
Pride (Instrumental)
Nukegake (Instrumental)
Yumi ver.

Pride
Nukegake (抜け駆け)
machigau take 2 (まちがう)
Pride (Instrumental)
Nukegake (Instrumental)
Mei ver.

Pride
Nukegake (抜け駆け)
Put your Hands Up! take 2 (プチャヘンザ!)
Pride (Instrumental)
Nukegake (Instrumental)
Ami ver.

Pride
Nukegake (抜け駆け)
Machigau take 2 (まちがう)
Shitteri / Shiranai take 2 (しってる/しらない)
Pride (Instrumental)
Nukegake (Instrumental)
Music Video (PV)