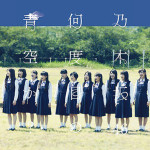 Nogizaka46's 10th single Nandome no Aozora ka? (何度目の青空か?) will be released on October 8.
The list of the 16 Senbatsu members has been announced during their variety show Nogizaka tte, Doko? (乃木坂って、どこ?).
The center is Ikuta Erika.
Senbatsu members :
1st row : Hashimoto Nanami, Matsui Rena, Nishino Nanase, Shiraishi Mai, Ikuta Erika
2nd row : Fukagawa Mai, Matsumura Sayuri, Sakurai Reika, Akimoto Manatsu, Ikoma Rina.
3rd row : Saito Chiharu, Wakatsuki Yumi, Eto Misa, Takayama Kazumi, Hori Miona, Hoshino Minami.
This song is used in the TV commercial for HTC smartphone HTC J butterfly (HTL 23).
The MVs have been unveiled. However, the viewing is restricted to some countries.
The limited editions include a DVD with the music videos and bonus footage featuring each member of Nogizaka46.
Tracklist
Regular Edition

CD

Nandome no Aozora ka? (何度目の青空か?)
Toomawari no Aijou (遠回りの愛情)
Tender Days
Nandome no Aozora ka? (Off vocal)
Toomawari no Aijou (Off vocal)
Tender Days (Off vocal)
Type A

CD

Nandome no Aozora ka?
Toomawari no Aijou
Korogatta Kane wo Narase! (転がった鐘を鳴らせ!)
Nandome no Aozora ka? (Off vocal)
Toomawari no Aijou (Off vocal)
Korogatta Kane wo Narase! (Off vocal)

DVD

Nandome no Aozora ka? (Music Video)
Korogatta Kane wo Narase! (Music Video)
Bonus footage
Type B

CD

Nandome no Aozora ka?
Toomawari no Aijou
Watashi, Okiru. (私、起きる。)
Nandome no Aozora ka? (Off vocal)
Toomawari no Aijou (Off vocal)
Watashi, Okiru. (Off vocal)

DVD

Nandome no Aozora ka? (Music Video)
Watashi, Okiru. (Music Video)
Bonus footage
Type C

CD

Nandome no Aozora ka?
Toomawari no Aijou
Ano Hi Boku wa Tossani Uso wo Tsuita (あの日 僕は咄嗟に嘘をついた)
Nandome no Aozora ka? (Off vocal)
Toomawari no Aijou (Off vocal)
Ano Hi Boku wa Tossani Uso wo Tsuita (Off vocal)

DVD

Nandome no Aozora ka? (Music Video)
Ano Hi Boku wa Tossani Uso wo Tsuita (Music Video)
Bonus footage
Music Video (PV)