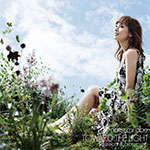 Abe Natsumi's new album Hikari e -Classical & Crossover- (Toward the Light) will be released on October 22.
As its title suggests, this album includes the classical versions of songs from musicals or movies performed by former Morning Musume member Abe Natsumi.
Check out the video documentary and the MV.
Nacchi said that it was a fun and difficult experience. She explained that she wanted a new challenge after 10 years as a Morning Musume member and the beginning of her solo career.
Abe Natsumi perfomed 12 songs along with the Tokyo Philharmonic Orchestra on Hikari e -Classical & Crossover-.
The limited edition comes with a bonus DVD.
Furthermore, Abe Natsumi's latest album Smile is on sale since August 13.
Tracklist
Stand Alone ~NHKスペシャルドラマ「坂の上の雲」より
Rose (ローズ)
Yume Yaburete ~ from the musical "Les Misérables" (夢やぶれて ~ミュージカル「レ・ミゼラブル」より)
Carnation ~ from NHK TV series novel "Carnation" (カーネーション ~NHK連続テレビ小説「カーネーション」より)
Sally Garden ~Kaze to Shoujo~ (サリー・ガーデン~風と少女~)
Green Sleeves ~Eien~ (グリーンスリーヴス~永遠~)
Watashi Dake ni ~ from the musical "Elizabeth" (私だけに ~ミュージカル「エリザベート」より)
On my Own ~ from the musical "Les Misérables" (オン・マイ・オウン ~ミュージカル「レ・ミゼラブル」より)
Kono Inori ~The Prayer~ with Mochizuka Tetsuya (この祈り~ザ・プレイヤー~with 望月哲也)
Yume wa Hisoka ni ~ from the movie "Cinderella" (夢はひそかに ~映画「シンデレラ」より)
Hikari e (光へ)
Shiro no Waltz (白のワルツ) (Bonus Track for Christmas)
Documentary
Music Video (PV)