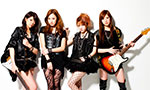 LoVendoR's new album Ikujinashi (イクジナシ) will be released on November 5th.
This is the 3rd mini-album from LoVendoЯ.
The MV with English and Japanese subtitles and the live version of the trailer have been unveiled.
The lyrics of Ikujinashi were written by rock artist Nakajima Takui. He also composed the music.
LoVendoR guitarist Miyazawa Marin composed the song Undergrounder.
Stonez!! was created during the live tour of Tanaka Reina's rock band.
The CD contains 5 songs.
It comes with a bonus DVD featuring music videos and footage from live performances.
Only one edition is available.
Furthermore, LoVendoR Live Tour 2014-2015 will be held from November 1, 2014 to February 1, 2015.
Tracklist
CD

Ikujinashi (イクジナシ)
Undergrounder
Kono Yo ni Shinjitsu no Ai ga Hitotsu Dake Arunara (この世に真実の愛が一つだけあるなら)
Stonez!!
Shounen (少年)
DVD

Ikujinashi (MusicVideo)
Shounen (MusicVideo)
Stonez!! ([email protected])
Ai no Gishiki (愛の儀式) ([email protected])
Dakedomo Ichido Soredemo Mou Ichido (だけどもう一度それでももう一度) (Live@WWW)
Music Video (PV)
Video (Trailer)