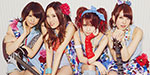 LoVendoЯ is a Japanese female rock band formed in early 2013. The name is pronounced "lovendor".
It consists of 4 members : 2 singers and 2 guitarists.
Former Morning Musume member Tanaka Reina is the leader.
The name of the unit comes from the words "Love" and "Vendor".
Biography / History
In November 2012, Tanaka Reina announced her graduation from Morning Musume and Hello! Project in the Spring of 2013 in order pursue her musical career with her own rock band.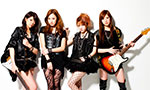 At the same time, the 3 other members who passed the audition have been unveiled. They were Okada Marina, Uozumi Yuki, and Miyazawa Marin. They were selected among 4000 applicants.
The name of the rock band, LoVendoЯ, was unveiled in February 2012. It was chosen after having received suggestions from the fans sent by email.
Their official website was opened on the same day.
LoVendoЯ 1st Live Tour 2013 Haru (LoVendoЯ ファーストライブツアー2013春~ ラベンダー ~) was held between March and May 2013.
Tanaka Reina's graduation ceremony from Morning Musume and Hello! Project took place on May 21, 2013 at Nippon Budokan in Tokyo.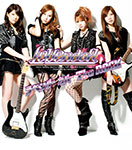 The female rock band released its debut mini-album LoVendoR Cover the Rock (ラベンダー カバー The Rock) on May 22, 2013.
As their previous concert tour was a success, LoVendoR 1st Live Tour 2013 Ver.2 (LoVendoЯファーストライブツアー2013 Ver.2) was held between July and August 2013.
Their 2nd mini-album Bukiyou (不器用) was released in April 2014.
The new logo of the group has been unveiled in late October 2014.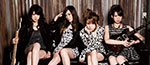 Guitarist Miyazawa Marin composed the song Undergrounder on their 3rd album Ikujinashi (イクジナシ) on sale since November 2014.
Uozuki Yuki and Miiyazawa Marin appeared as devils in the PV for Sex Machineguns' Metal Keiri Man (メタル経理マン), and in a commercial for Music Navi (ミュージックナビ) in May 2015.
LoVendoЯ's major debut single Iinjanai? / Futsuu no Watashi Ganbare! (いいんじゃない?/普通の私 ガンバレ!) is going to be released in July 2015.
Profile
LoVendoЯ (ラベンダー)
Years active : 2013 – present
Label : Up-Front Works
Agency : Up-Front Create
Members
Tanaka Reina (田中れいな) – Vocal
Okada Marina (岡田万里奈) – Vocal
Uozumi Yuki (魚住有希) – Guitarist
Miyazawa Marin (宮澤茉凜) – Guitarist
Discography
Singles
01/07/2015 : Iinjanai? / Futsuu no Watashi Ganbare! (いいんじゃない?/普通の私 ガンバレ!)
Albums
22/05/2013 : LoVendoR Cover the Rock (ラベンダー カバー The Rock)
23/04/2014 : Bukiyou (不器用)
05/11/2014 : Ikujinashi (イクジナシ)
Links
News