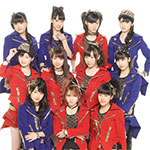 Morning Musume Concert Tour 2013 Haru Michishige Eleven Soul ~Tanaka Reina Graduation~ in Nippon Budokan (モーニング娘。コンサートツアー2013春 ミチシゲ☆イレブンSoul 〜田中れいな卒業記念日〜 in日本武道館) will be released on DVD and Blu-ray on September 4.
The DVD and the Blu-ray feature the 29 songs performed at the concert, including 2 songs from LoVendoR.
As the title suggests, Tanaka Reina's graduation ceremony from Morning Musume was held during this live.
The concert was recorded on May 21, 2013 at Nippon Budokan in Tokyo.
The photobook of the live performance will go on sale on August 10.
Setlist
Opening
Kono Yo ni Shinjitsu no Ai ga Hitotsu dake Aru no Nara (この世に真実の愛が一つだけあるのなら) (LoVendoЯ)
Tadoritsuitara Itsumo Ame Furi (たどりついたらいつも雨ふり) (LoVendoЯ)
Kimi Sae Ireba nani mo Iranai) (君さえ居れば何も要らない)
Help me!!
Wakuteka Take a Chance (ワクテカ Take a chance)
Brainstorming (ブレインストーミング)
Ooki Hitomi (大きい瞳) (Michishige Sayumi, Tanaka Reina)
Waratte You! (笑ってYou!) (Fukumura Mizuki, Ikuta Erina, Sayashi Riho, Suzuki Kanon, Iikubo Haruna, Ishida Ayumi, Sato Masaki, Kudo Haruka, Oda Sakura)
What's Up? Ai wa dou na no yo (What's Up? 愛はどうなのよ~)
Egao Yes Nude (笑顔 Yes ヌード)
Onna ga Medatte naze Ikenai (女が目立ってなぜイケナイ)
Nanchatte Renai (なんちゃって恋愛)
Kimagure Princess (気まぐれプリンセス)
Aishuu Romantic (哀愁ロマンティック) (Michishige Sayumi, Fukumura Mizuki)
Rock no Teigi (Rockの定義) (Tanaka Reina
Tokimeku Tokimeke (トキメクトキメケ) (Michishige Sayumi, Fukumura Mizuki, Ikuta Erina, Iikubo Haruna, Ishida Ayumi)
Ambitious! Yashinteki de Ii Jan (Ambitious! 野心的でいいじゃん)
Naichau Kamo (泣いちゃうかも)
Renai Hunter (恋愛ハンター)
Only You
Mikan (みかん)
Kare to Issho ni Omise gq Shitai! (彼と一緒にお店がしたい!)
One・Two・Three
Dokkan Capriccio (ドッカ~ン カブリッチ)
– Encore –
Kira Kira Fuyu no Shining (キラキラ冬のシャイニーg) (Tanaka Reina)
Graduation Ceremony (卒業セレモニー)
Happy Daisakusen (Happy 大作戦)
Shabondama (シャボン玉)