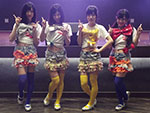 Machikado Keiki Japan (街角景気☆Japan↑) is a Japanese idol group formed in 2013. It currently consists of 4 members, including Sakura Yuki from Steamgirls and Mori Kanon from Alice Juban.
The name of the group, Machikado Keiki Japan, means "Economic Conditions on the Streets of Japan" in English.
The concept of the unit is that the length of the skirts worn at their concerts is determined by the economic situation and the evolution of the Nikkei stock average. It is based on an observation : in Japan, during the periods of economic growth, the miniskirts become more popular, and vice versa during the decline periods. From an initial amount of 10000 yens, the scale has been fixed to the following values :
9000 – 9999 yens : long skirt
10000 – 11999 yens : middle skirt
12000 – 12999 yens : mini-skirt
13000 – 13999 yens : no skirt!
14000 – 14999 yens : ultimate version
15000 – 15999 yens : cake mini-skirt
16000 – 19999 yens : Japan Break
over 20000 yens : Shinzo Abe (prime minister) is invited to become the center of the idol group
Machikado Keiki Japan is part of Alice Project. The unit is a sister group of Alice Juban, Steamgirls, and Oz.
They perform regularly at P.A.R.M.S. Theater in Akihabara, Tokyo.
Profile
Machikado Keiki ☆ Japan ↑ (街角景気☆Japan↑)
Years active : 2013 – present
Label : –
Agency : Kleeblatt
Members
Sakura Yuki (桜雪) (Steamgirls)
Mori Kanon (森カノン) (Alice Juban)
Kuroki Hinako (黒木ひなこ)
Amaki Jun (天木じゅん)
Discography
Singles
01/05/2013 : Abeno☆Mix (アベノ☆Mix)
Albums
Links
News
Videos
Video report on their debut :