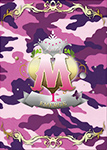 Meguriai 1st Live Emerge (メグリアイ 1stワンマンライブ『Emerge』) will be released on DVD on May 7.
The live performance was held at Tower Records Shibuya "Cutup Studio" in Tokyo on September 15, 2013.
Meguriai performed 18 songs including a medley during this concert.
This DVD is available in all Japanese CD shops but only on Amazon for online purchase.
It has a total duration of 120 minutes.
Moreover, Meguriai's 8th single Seishun Akaneiro (青春茜色) will go on sale on June 6.
Setlist
Furi Muite (ふり向いて)
Candy Girl
Kimi Dake Refrain (君だけRefrain)
Otomezakura (乙女桜)
Daisuki (大好き☆) -Album ver.-
Pomu Pomu Iggy Pop (ぽむぽむイギーポップ) (Meguriai feat. Tsunagari Kinshi)
Ikinari (いきなり秘密兵器) (Meguriai feat. Ikinari Himitsu Heiki)
Raspberry Kiss (ラズベリーKiss) (short ver.)
Ruiiro no Tsubasa (瑠璃色の翼) (short ver.)
Meikyuu Fantasia (迷宮Fantasia)
Ichibanboshi (イチバンボシ) -Album ver.-
I Wish -Piano Hikigatari ver.- (I Wish -ピアノ弾き語りver.-)
Nurai Uchi (ネライ撃ち)
Happy! Lucky!
Koi no (恋の果実)
Himawari (向日葵)
Mirai e! ~Emerge~ (未来へ!〜EMERGE〜)
Medley

Otomezakura (乙女桜)
Kimi Dake Refrain (君だけRefrain)
Daisuki (大好き☆) -Album ver.-