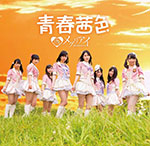 Meguriai's 8th single Seishun Akaneiro (青春茜色) will be released on June 6.
The 5th generation members of Meguriai are performing for the first time on this single.
The lyrics of both songs were written by Ayabe Kaoru. The sound producer also composed and arranged the music.
They are idol pop songs.
Only one edition is available.
Furthermore, Meguriai 1st Live Emerge (メグリアイ 1stワンマンライブ『Emerge』) is on sale since May 7.
Tracklist
Seishun Akaneiro (青春茜色)
Yasashii Kaze (優しい風)
Seishun Akaneiro (青春茜色) (Instrumental)
Yasashii Kaze (優しい風) (Instrumental)