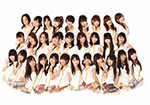 LinQ's new single Natsu Koi (ナツコイ) will be released on July 30.
This is the 4th major single from LinQ. It is the idol group summer anthem.
The song was performed for the first time on May 18 during LinQ's live at Tenjin Hall in Fukuoka.
It is the theme song for the TV show Shio Haku 2014 (汐博2014) airing on NTV.
3 editions are available. Each CD contains 3 songs and their instrumental versions. The coupling tracks are different for each one of them.
The Tenjin edition is only on sale at Tenjin Hall in Fukuoka.
It comes with a music card randomly selected among 30 models.
Tracklist
Regular Edition

CD

Natsu Koi (ナツコイ)
Shuwa Shuwa Shuwari (シュワシュワシュワリ)
Sweet my Song
Natsu Koi (ナツコイ) (Instrumental)
Shuwa Shuwa Shuwari (シュワシュワシュワリ) (Instrumental)
Sweet my Song (Instrumental)
Limited Edition

CD

Natsu Koi (ナツコイ)
Telephone
Bye Bye Baby Love
Natsu Koi (ナツコイ) (Instrumental)
Telephone (シュワシュワシュワリ) (Instrumental)
Bye Bye Baby Love (Instrumental)
Tenjin Edition

CD

Natsu Koi (ナツコイ)
Peace
Shuwa Shuwa Shuwari -Shinta Planet Remix- (シュワシュワシュワリ)
Natsu Koi (ナツコイ) (Instrumental)
Peace (Instrumental)
Shuwa Shuwa Shuwari -Shinta Planet Remix- (シュワシュワシュワリ) (Instrumental)