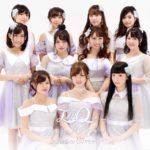 LinQ starts the year with a new single Aa Jounetsu no Banbaraya / Shitsuren Photograph (ああ情熱のバンバラヤー/失恋フォトグラフ).
This is the 17th single of the idol group LinQ and it was released on January 31st.
Check out the MV for the song Shitsuren Photograph below.
It is also the first single of LinQ with its new line-up reduced of 11 members.