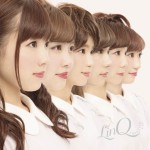 The new album of LinQ entitled Frontier ~LinQ Dai 3 Gakushou~ (Frontier~LinQ 第三楽章~) was released on Novembre 25.
This is the 3rd album by the idol group from Fukuoka. It's also the 2nd major album of the group.
The tracklist was unveiled. It contains the latest singles of LinQ and news songs.
Check out the promotional video.
The album is available in 3 versions : one regular édition (including a CD) and 2 limited editions (including with the CD, a DVD or a Blu-ray extra depending on the edition).
Tracklist
Hare Hare☆Parade (ハレハレ☆パレード)
Baby
LinQuest ~Yagate Densetsu e… (LinQuest ~やがて伝説へ…)
telephone
My Favorite Song (マイ・フェイバリット・ソング)
Wessai!! Gassai!! (ウェッサイ!!ガッサイ!!)
Ai Screamin'. (アイ、スクリーミン。)
Natsu Koi (ナツコイ)
Happy☆Deli ハピ☆デリ)
My Letter
White Drops
FRONTIER
Promotional Video