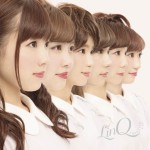 The new album of LinQ entitled Frontier ~LinQ Dai 3 Gakushou~ (Frontier~LinQ 第三楽章~) was released on Novembre 25.
This is the 3rd album by the idol group from Fukuoka. It's also the 2nd major album of the group.
The tracklist was unveiled. It contains the latest singles of LinQ and news songs.
Check out the promotional video.