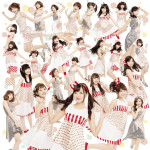 LinQ is a Japanese idol group formed in April 2011.
It currently consists of 30 members.
They are split into 2 teams : Lady and Qty.
The idol unit is from Fukuoka on the island of Kyushu.
Biography / History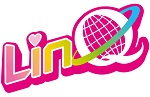 The name LinQ comes from the expression "Love in Kyushu".
The leader is Amano Natsu.
Araki Kokoro and Araki Sakura are sisters.
There were 1162 applicants to the auditions held in April 2011. 33 girls were selected.
LinQ's debut single Hajimemashite (ハジメマシテ) was released in June 2011 under the label T-Palette Records.
The 2nd generation members were recruited in June 2011. Among them, Shiira Fuko, Kitayama Mao, Kimura Saki and Fukuyama Kana were previously part of Loveit's.
The photobook LinQ 1st official book ~Matomemashite~ (~マ・ト・メ・マシテ~) was published in August 2012.
The regular show LinQ♥LinK is being broadcast on the internet on TV Asahi (テレ朝動画) every Wednesday since September 2012.
Yuki Narumi was a finalist of the Japanese contest for Miss International 2013 (2013ミスインターナショナルファイナリスト).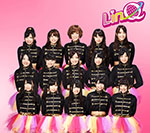 The documentary film LinQ Zero (リンク・ゼロ) was released in April 2013. It follows the history of the idol group from its creation in 2011 to former leader Uehara Asami's graduation concert in February 2013. Uehara Asami was a former member of HR.
Himesaki Ami acted in the stage play Shinigami Hime no Saikon (死神姫の再婚) in March 2013. The story is based on the manga of the same name. She played the role of Alicia.
LinQ made their major debut with the single Chime ga Owareba (チャイムが終われば) released in April 2013 under the label Warner Music Japan.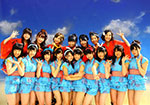 In May 2013, Fukase Chisei sung with Lyrical School on a song of their single Parade.
Maikawa Aya and Ito Maki played in the movie 讐 〜Ada〜 released in July 2013 along with other idol groups such as Up Up Girls (Kari), Vanilla Beans, Caramel Ribbon and Lyrical School.
The sub-unit SRAM was formed in November 2013. It consists of Sara, Rou, Aya, Myu, Lady K. They perform rock songs.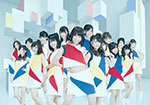 In August 2014, the girls participated in a prevention campaign against the locomotive syndrome. They practiced gymnastics on some videos.
Amano Natsu hosts the radio show LinQ no "wa" (LinQの『わ』) on Tokyo FM since August 2014. She makes an interview with a special guest every week along with other members.
The single Wessai!! Gassai!! (ウェッサイ!!ガッサイ!!), released in September 2014, was produced in collaboration with Dempagumi.inc. The members of the latter idol group Yumemi Nemu and Aizawa Risa made respectively the music video and the design of the costumes.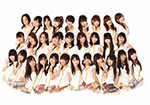 The TV show LinQ no Kao to Namae Dake Demo! (LinQの顔と名前だけでも!) started airing on Pigoo in October 2014. In this program, the girls face various challenges in the 23 wards of Tokyo.
Maikawa Aya released her 1st DVD My♥Kawa in October 2014.
Himesaki Ami made her solo debut as a Vocaloid Idol under the name of AmiHime in 2014. She signed under T-Palette Records label.
Ito Maki participated in the Miss iD 2015 contest.
Their official Line account @linqline was opened in March 2015.
Himesaki Ami debuted as a voice actress (seiyuu) for Venus Project anime and RPG video game in March 2015.
In April 2015, Takaki Yumi, Yamaki Ayano, Oba Ayaka, Fukase Chisei, Araki Sakura and Sakai Asaka appeared as pizza delivery girls in a commercial movie (CM) for Pizza Cooc.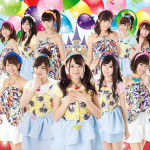 The music video for their 6th major single Hare Hare☆Parade (ハレハレ☆パレード) was filmed at a popular wedding destination that was built on an artificial island in Fukuoka.
Kohinata Maina and Iwamoto Kotone joined LinQ in May 2015. They are former members of BudLab.
Takaki Yumi, Sakai Asaka, Himesaki Ami, Yamaki Ayano and Ito Maki participated in Connect Japan 2015 in Bangkok, Thailand, in May 2015.
Mizuno Marina's contract was terminated by the management agency in May 2015. No specific details were given about the reasons for her dismissal. A bad behavior was mentioned.
Myu appeared in a commercial for the Fukuoka City Human Rights Education Center (福岡市人権啓発) in June 2015.
Himesaki Ami performed as a voice actress in the anime Kurayama Santa (暗闇三太) in July 2015.
Kimura Saki and Yuji Narumi announced her graduation in July 2015.
The girls were appointed image characters for Uminonakamichi Sunshine Pool (海の中道サンシャインプール) during the summer of 2015.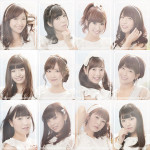 LinQ members Yoshikawa Chiaki, Himesaki Ami and Araki Sakura participated in Toronto Japanese summer festival Matsuri in Canada in July 2015.
Sakai Asaka appeared in a commercial campaign for Ringer Hut (リンガーハット) fast-foot restaurants in August 2015.
The idol group performed at the opening act of international rugby match Japan vs Uruguay at Fukuoka stadium in August 2015.
Araki Sakura's 1st photobook Sakura Days was published in October 2015.
In December 2015, Ito Maki made an appearance in the music video for Urbangarde's Heisei Shibou Yugi (平成死亡遊戯).
In January 2016, Takaki Yumi performed in Kami-sama Hajimemashite The Musical 2016 (神様はじめました The Musical♪2016). Kishida Mayu, Yoshikawa Chiaki, Araki Sakura and Araki Kokoro participated in a show as guests.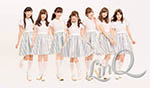 In February 2016, LinQ members participated, as local celebrities, in the opening ceremony of the Setsubun Festival (節分大祭) at the Tochoji temple and at the Kushida and Sumiyoshi shrines in Fukuoka. This annual event commemorates the last day of the winter, and the arrival of spring, in association with the Lunar New Year.
In February 2016, Hoshino Mai joined LinQ as a 7th generation member.
Kitayama Mao's contract was terminated after she broke off contact with the staff inFebruary 2016.
A few weeks later, former BudLaB members Seto Kaede and Kaizuki Rana were recruited.
Araki Sakura, Sakai Asaka, Ooba Ayaka, Fukuyama Kana, Takaki Yumi, Amano Natsu, Fukase Chisei, Ito Maki and Hara Naoko are starring the movie Minna Suitouto (みんな好いとうと♪) which is going to be released in March 2016 in Japan.
In March, Maikawa Aya participated in Fukuoka Asia Collection Show 2016 Spring-Summer (福岡アジアコレクション) as a designer for her own fashion brand Mykawa.
Hara Naoko makes regular appearance on the TV show Lonpuku Atsushi (ロンプク☆淳) on KBC since April 2016.
Takaki Yumi appeared in a commercial for Ming Hakata Ekinaka Shopping mall in April 2016.
Matsumura Kurumi is going to graduate during the spring of 2016.
Takaki Yumi participated in a TV commercial for Bike Ou (バイク王) in April 2016.
LinQ performed at IDOLidge Carnival in Taipei, Taiwan, in May 2016.
Ichinose Miku and Fukase Chisei will leave the idol group in June 2016. Since they will turn 30 years old, they decided to pursue solo activities in the entertainment industry.
Profile
LinQ (リンク)
Years active : 2011 – present
Label : Warner Music Japan
Agency : Job Net
Members
Lady
Akiyama Alice (秋山ありす)
Amano Natsu (天野なつ)
Ichinose Miku (一ノ瀬みく)
Ooba Ayaka (大庭彩歌)
Kishida Mayu (岸田麻佑)
Kohinata Maina (小日向舞菜)
Sugimoto Yusa (杉本ゆさ)
Hara Naoko (原直子)
Fukase Chisei (深瀬智聖)
Maikawa Aya (舞川あや)
Matsumura Kurumi 松村くるみ)
Momosaki Mayu (桃咲まゆ)
Yoshikawa Chiaki (吉川千愛)
Qty
Araki Kokoro (新木こころ)
Araki Sakura (新木さくら)
Ito Maki (伊藤麻希)
Iwamoto Kotone (岩本琴音)
Ohishi Mei (大石芽依)
Sakai Asaka (坂井朝香)
Sakura Manami (桜愛美)
Shiira Fuko (志良ふう子)
Takaki Yumi (高木悠未)
Himesaki Ami (姫崎愛未)
Fukuyama Kana (福山果奈)
Mizuno Marina (水野真里菜)
Yamaki Ayano (山木彩乃)
Myu
Hoshino Mai (星野真依)
Seto Kaede (瀬戸楓)
Kaizuki Rana (海月らな)
Former Members
Nagami Yuna (永未結菜)
Takiuchi Mirei (瀧内美麗)
Takemura Keiko (武村佳子)
Fujii Rika (藤井利香)
Fukudome Ayaka (福留あやか)
Okuda Keiko (奥田敬子)
Hanon Saki (波音咲)
Kirishima Ayane (桐島綾音)
Arima Riho (有馬梨帆)
Minakami Emiri (水上笑里)
Akiyama Anjera (秋山あんじぇら)
Hattori Sayaka (服部さやか)
Yoshino Saaya (好野紗亜也)
Yasukawa Atsuki (安川蒼月)
Ikeda Maako (池田真亜子)
Tsuru Nichika (鶴二慶)
Okumura Yui (奥村ゆい)
Uehara Asami (上原あさみ)
Serisawa Rena (芹澤怜奈)
Sakuraba Yurina (桜庭ゆりな)
Goto Rikako (後藤梨佳子)
Fukuhara Izumi (福原和泉)
Mizuki Moe (瑞稀もえ)
Shirosaki Haruna (城崎はるな)
Mizuno Marina (水野真里菜)
Kimura Saki (木村早希)
Yuji Narumi (由地成美)
Kitayama Mao (北山真緒)
Discography
Singles
26/06/2011 : Hajimemashite (ハジメマシテ)
09/11/2011 : Calorie Nante (カロリーなんて)
29/02/2012 : Sakura Kajitsu / Sakura Monogatari (さくら果実 / Sakura物語)
18/07/2012 : Shiawase no Energy / Matsuri no Yoru ~Kimi wo Suki ni Natta Hi~ (シアワセのエナジー / 祭りの夜~君を好きになった日~)
30/01/2013 : Chiku-Taku / Going my Way! (Chiku-Taku / ゴーイング マイ ウェイ!)
17/04/2013 : Chime ga Owareba (チャイムが終われば)
07/08/2013 : Hanabi!!
22/01/2014 : Colorful Days (カラフルデイズ)
30/07/2014 : Natsu Koi (ナツコイ)
24/09/2014 : Wessai!! Gassai!! (ウェッサイ!!ガッサイ!!)
29/04/2015 : Hare Hare☆Parade (ハレハレ☆パレード)
09/09/2015 : LinQuest ~Yagate Densetsu e… (LinQuest~やがて伝説へ・・・)
23/03/2016 : Supreme
Albums
18/04/2012 : Love in Qushu ~LinQ 1st Gakushou~ (Love in Qushu ~LinQ 第一楽章~)
26/03/2014 : Awake ~LinQ Dai 2 Gakushou~ (Awake~LinQ第二楽章~)
25/11/2015 : Frontier ~LinQ Dai 3 Gakushou~ (Frontier~LinQ 第三楽章~)
Links
News