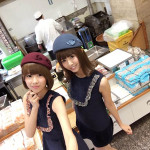 Vanilla Beans (バニラビーンズ) is a Japanese idol group formed in early 2007. They are also known as Vanibe (バニビ).
It currently consists of 2 members : Risa and Rena.
The concept of the idol unit is that they are supposed to come from Northern Europe and more precisely from Denmark.
They perform j-pop songs.
Biography / History
In 2007, the 2 original members were Rena and Rika.
Vanilla Beans released their debut single U ♡ Me in October 2007.
Rika withdrew in March 2008. She was replaced by Risa.
Vanilla Beans held their 1st live performance in December 2009 at Daikanyama Unit in Tokyo.
The idol unit participated in Expo 2010 Shanghai in China in September 2010. They were one of the artists representing Japan.
They participated in the 8th Festival in Taiwan (第8回まつりイン台湾) in December 2010.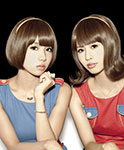 Vanilla Beans signed under Tower Records idol-specialized label T-Palette Records in June 2011.
The idol group held a series of concerts to celebrate their 5th anniversary in 2012 and 2013. Various artists made an appearance as guests.
The girls participated in Toulouse Game Show in France in December 2012.
Rena and Risa played in the movie 讐 〜Ada〜 released in July 2013 along with other idol groups such as Up Up Girls (Kari), LinQ, Caramel Ribbon and Lyrical School..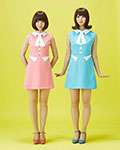 Rena is a fan of Japanese idols. She hosts the show Can't Stop Loving Idols!! (アイドル好きが止まらない!!) broadcast on Kawaii Girl Japan website. She makes interviews and live reports on other groups.
Vanilla Beans' 11th single Kitto Ii Basho (Fuchi) (きっといい場所(フチ)) is the official song for Cup no Fuchico (コップのフチ子). In addition, they participated in a campaign titled No Music, No Fuchico? in collaboration with Tower Records, T-Palette and Cup no Fuchico.
Rena and Risa climbed to the top of Mount Fuji in the summer 2014. The video of the challenge is available on the single Uchouten Girl (有頂天ガール).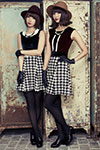 In December 2014, Vanibe appeared in a commercial for Osaifu-Keitai (おサイフケータイ). In the video, the girls promote the brand of standard mobile payment system by buying items in various shops. The CM song is Uchouten Girl.
The girls co-host the TV show Shino × Vani (シノ×バニ) with actress and singer Shinohara Tomoe since April 2015.
Vanilla Beans signed under avex trax label in August 2015.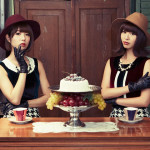 If less that 15000 copies of the single Onna wa Sore wo Gaman Shinai / Be-nius / lonesome X (女はそれを我慢しない / ビーニアス / lonesome X) were sold, the idol group would have to disband and stop its activities.
Fortunately, they succeeded this challenge, and as a result the album Vanilla Beans V was released in February 2016.
Along with other artists, Risa and Rena participated in the Bra & Peace campaign to promote Wacoal's Bragenic bra in February 2016.
Profile
Vanilla Beans (バニラビーンズ)
Years active : 2007 – present
Label : avex trax
Agency : Flower Label
Members
Former Members
Discography
Singles
03/10/2007 : U ♡ Me (ユー ラヴ ミー)
21/05/2008 : Nicola (ニコラ)
28/01/2009 : Sakasaka Circus (サカサカサーカス)
09/09/2009 : Love & Hate
29/06/2011 : Tengoku e no Kaidan (天国への階段)
28/01/2012 : Toki no Kakera (トキノカケラ)
11/04/2012 : Choco Mint Flavor Time (チョコミントフレーバータイム)
04/07/2012 : Non-Section (ノンセクション)
08/05/2013 : Muscat Slope Love (マスカット・スロープ・ラブ)
16/10/2013 : Please Me Darling (プリーズミー・ダーリン)
23/04/2014 : Watashi… Fukou Guse (ワタシ・・・不幸グセ)
18/06/2014 : Kitto Ii Basho (Fuchi) / Zettai Panty Line (きっといい場所(フチ) / 絶対パンティーライン)
11/11/2014 : Uchouten Girl (有頂天ガール)
28/11/2015 : Onna wa Sore wo Gaman Shinai / Be-nius / lonesome X (女はそれを我慢しない / ビーニアス / lonesome X)
Digital Singles
27/08/2008 : Afternoon a Go-Go
24/09/2008 : Afternoon a Go-Go ~We Love You Mix~
29/10/2008 : Shopping☆Kirari
25/11/2008 : Shopping☆Kirari ~Okite Porsche + Dr. Usui Waterfront Mix~
24/12/2008 : Ashita wa Ashita no Natsu ga Kuru (あしたはあしたの夏がくる)
28/01/2009 : Ashita wa Ashita no Natsu ga Kuru ~Dr. Usui Death Techno Mix~ (あしたはあしたの夏がくる)
09/04/2009 : Koi no Theory (恋のセオリー)
Albums
25/02/2009 : Vanilla Beans (バニラビーンズ)
20/07/2011 : Vanilla Beans II (バニラビーンズⅡ)
07/11/2012 : Vanilla Beans III (バニラビーンズⅢ)
03/02/2014 : Vanilla Beans IV (バニラビーンズⅣ)
03/02/2016 : Vanilla Beans V
Mini-Albums
Best of Albums
Links
News