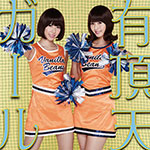 Vanilla Beans' new single Uchouten Girl (有頂天ガール) will be released on November 11th.
This is the 12th single from Vanilla Beans.
The music video has been unveiled.
Risa and Rena appear in cheerleader uniform on the CD cover and on their new profile picture.
Both songs are inspired by the 80s and the idols from this period.
The lyrics of Uchouten Girl (有頂天ガール) were written by Sekiya Kentaro. The music was composed by Inoue Daisuke and arranged by Osumi Tomotaka.
The coupling song Kiss wa Me ni Shite Bao! (キッスは目にして ぽお!) was written by Aki Yoko and also composed by Inoue Daisuke.
The limited edition includes a bonus DVD with the video of Rena and Risa climbing to the summit of Mount Fuji for the first time.
Moreover, Vanilla Beans are going to participate in several release events from October 12th to November 16th.
Vanibe will also hold a live performance on December 18th at Ebisu Liquid Room, Tokyo.
Tracklist
CD

Uchouten Girl (有頂天ガール)
Kiss wa Me ni Shite Bao! (キッスは目にして ぽお!)
Uchouten Girl (Instrumental)
Kiss wa Me ni Shite Bao! (Instrumental)
DVD

Vanilla Beans Mount Fuji Tozan ~Chousen Hen~ (バニラビーンズ富士登山!~挑戦篇~)
Music Video (PV)