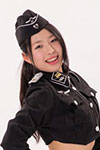 Hirata Iria left Hachikin Girls in order to study abroad at Oxford University in England.
Hirata Iria is the leader of Hachikin Girls, a local idol group from Kochi Prefecture.
Her last live performance was held on September 27th.
Hirata Iria is going to enter Oxford University in October.
She said that it was a dream for her. She also announced that she will be back in 6 months.