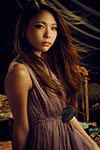 Muto Chiharu announced her withdrawal from E-Girls and Flower.
Muto Chiharu explained that she was leaving both groups in order to study abroad. She wants to experience a new environment in a foreign country to get stronger.
In her sudden announcement, she thanks the other members, the staff and the fans who cheered her. She wishes to pursue her musical career.
Muto Chiharu was a member of Flower and E-Girls since 2011.