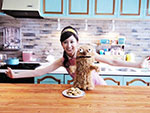 Maeda Atsuko appeared in a commercial for Fujiya's Country Ma'am cookies.
Former AKB48 member Maeda Atsuko and a puppet named Pu-kun speaking Kansai dialect host a variety show titled Country Ma'am Premium Show.
Check out the video and some photos.
This series of short movies is inspired by the 1950s. Maeda Atsuko wears a retro polka dot dress.
The scenes take place in a kitchen. Acchan makes cookies from the Japanese brand.
Video
Photos