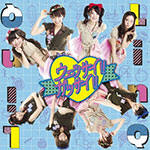 LinQ's new single Wessai!! Gassai!! (ウェッサイ!!ガッサイ!!) was released on September 24th.
This is the 5th single from LinQ. It is produced by Fukushima Maiko who usually works for Dempagumi.inc.
The MV has been unveiled. It was made in collaboration between Yumemi Nemu (Dempagumi.inc) and video director Smith as SmithNemu (スミネム).
Aizawa Risa (Dempagumi.inc) designed the costumes. The concept is "adventure" and "challenge" matching the theme of this new song. The artwork is inspired by the 1980s.
"Wessai" stands for "West side" (i.e. the Western part of Japan) and refers to the fact that LinQ are from Fukuoka on the island of Kyushu.
The coupling songs are different on each edition.
5 other versions of the CD are available only on Warner Music Japan store.
Moreover, LinQ are holding a series of live performances in Fukuoka and Tokyo from September 22 to 28.
Tracklist
Regular Edition

Wessai!! Gassai!! (ウェッサイ!!ガッサイ!!)
Bouken (冒険)
Happy Deli (ハピ☆デリ)
Wessai!! Gassai!! (Instrumental)
Bouken (Instrumental)
Happy Deli (Instrumental)
Limited Edition

Wessai!! Gassai!! (ウェッサイ!!ガッサイ!!)
Ding Dong
My Letter
Wessai!! Gassai!! (Instrumental)
Ding Dong (Instrumental)
My Letter (Instrumental)
Music Video (PV)