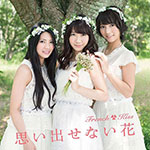 French Kiss' 6th single Omoidasenai Hana (思い出せない花) will be released on October 1st.
This is the first single from AKB48's sub-unit French Kiss for 2 years and 3 months.
The MV has been unveiled.
Omoidasenai Hana is a folk song inspired by the 1970s.
It is the theme song for the drama Savepoint starring Takajo Aki.
It is also used in the idol group's TV show French Kiss no Kiss Tabi (フレンチ・キスのキス旅).
4 editions of the single are available. They come with a bonus DVD featuring the music video, making-of footage and some episodes of both shows.
French Kiss is a sub-unit of AKB48 consisting of Kashiwagi Yuki, Kuramochi Asuka and Takajo Aki.
Tracklist
Type A

CD

Omoidasenai Hana (思い出せない花)
Amanojaku (あまのじゃく)
6 Gatsu 29 Nichi (6月29日)
Omoidasenai Hana (Instrumental)
Amanojaku (Instrumental)
6 Gatsu 29 Nichi (Instrumental)

DVD

Omoidasenai Hana (Music Video)
Making-of
French Kiss no Kiss Tabi #01 Singapore
French Kiss no Kiss Tabi Hong Kong Mikoukai Cut Eizou
Starpoint 1st Contact
Type B

CD

Omoidasenai Hana (思い出せない花)
Amanojaku (あまのじゃく)
Futari Dake no Kioku (2人だけの記憶)
Omoidasenai Hana (Instrumental)
Amanojaku (Instrumental)
Futari Dake no Kioku (Instrumental)

DVD

Omoidasenai Hana (Music Video)
Making-of
French Kiss no Kiss Tabi #02 Singapore
French Kiss no Kiss Tabi Vancouver Takajo Aki Mikoukai Cut Eizou
Starpoint 2nd Plan
Type C

CD

Omoidasenai Hana (思い出せない花)
Amanojaku (あまのじゃく)
Hiroi Sekai no Naka de Deaeta Koto (広い世界の中で出逢えたこと)
Omoidasenai Hana (Instrumental)
Amanojaku (Instrumental)
Hiroi Sekai no Naka de Deaeta Koto (Instrumental)

DVD

Omoidasenai Hana (Music Video)
Making-of
French Kiss no Kiss Tabi #03 Singapore
French Kiss no Kiss Tabi Hawaii Kashiwagi Yuki Mikoukai Cut Eizou
Starpoint 3rd Fact
Type D

CD

Omoidasenai Hana (思い出せない花)
Amanojaku (あまのじゃく)
Kokoro no Kagi (心の鍵)
Omoidasenai Hana (Instrumental)
Amanojaku (Instrumental)
Kokoro no Kagi (Instrumental)

DVD

Omoidasenai Hana (Music Video)
Making-of
French Kiss no Kiss Tabi #04 Singapore
French Kiss no Kiss Tabi Los Angeles Kuramochi Asuka Mikoukai Cut Eizou
Starpoint 4th Answer
Music Video (PV)