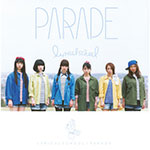 Lyrical School's new single Parade (パレード) will be released on May 15.
It is the first single of Lyrical School with their new member Hina who joined the idol group in March.
The limited edition includes a bonus track featuring Fukase Chisei from LinQ.
Watch out the music video.
The title song is produced by Tofubeats.
Tracklist
Regular Edition
Parade
tengal6 take2
Parade (Instrumental)
tengal6 take2 (Instrumental)
Limited Edition
Parade
tengal6 take2
S.T.A.G.E feat. Fukase Chisei (from LinQ)
Parade (Instrumental)
tengal6 take2 (Instrumental)
S.T.A.G.E (Instrumental)
Music Video (PV)