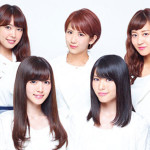 °C-ute's 9th album °Cmaj9 will be released on December 23.
This album contains 19 tracks including °C-ute's latest single and new ones.
The songs were written by various artists such as Nakajima Takui, Shock Eye (Shonan no Kaze), Miura Yoshiko, Kondo Kaoru, Nakamura Yoshinori, Hoshibe Sho, Jean-Luc Ponpon, Kodama Ameko, Watanabe Yasushi, and Tsunku♂.
The regular edition includes a remix version of Arigatou ~Mugen no Yell~ by tofubeats as a bonus track.
The Type A comes with a DVD featuring live footage from Naruchika 2015 °C-ute 5/19 Ebisu Liquidroom.
The Type B includes a Blu-ray with 3 music videos.
Furthermore, °C-ute's 33rd single Arigatou ~Mugen no Yell~ / Arashi wo Okosunda Exciting Fight! is on sale since October 28.
Tracklist
CD

℃maj9
Iron Heart (アイアンハート)
Otoko to Onna to Forever (男と女とForever)
Jounetsu Ecstasy (情熱エクスタシー)
Digitalic→0 (Love) (デジタリック→0(LOVE))
Urayanjau (羨んじゃう)
Yokaze no Message (夜風のMessage)
Tokai no Hitorigurashi (都会の一人暮らし)
Ai tte Motto Zanshin (愛ってもっと斬新)
Kokoro no Sakebi wo Uta ni Shitemita (心の叫びを歌にしてみた)
Love take it all
The Power
Kanashimi Heaven (悲しきヘブン) (Single Version)
I miss you
THE FUTURE
The Middle Management~女性中間管理職~
Tsugi no Kado wo Magare (次の角を曲がれ)
Gamusha Life (我武者LIFE)
℃maj9 (Reprise)
Arigatou ~Mugen no Yell~ (ありがとう~無限のエール~) (tofubeats remix)
DVD (Type A)

Naruchika 2015 °C-ute 5/19 Ebisu Liquidroom

OPENING
Kacchoii Uta (かっちょ良い歌)
Love take it all
MC
The Middle Management ~Josei Chuukan Kanrishoku~
THE FUTURE
The Power
MC
Campus Life ~Umarete Kite Yokatta~ (キャンパスライフ~生まれて来てよかった~)
Sakura Chirari (桜チラリ)
Wakaretakunai… (別れたくない…)
MC
Tsugi no Kado wo Magure
Please, love me more!
Namida no Iro (涙の色)
Midnight Temptation
Ai tte Motto Zanshin
Tokaikko Junjou (都会っ子 純情)
Kiss me Aishiteru (Kiss me 愛してる)
Dance de Bakoon! (Danceでバコーン!)
MC
Bokura no Kagayaki (僕らの輝き)
Chou Wonderful! (超WONDERFUL!)
MC
SHINES
Blu-ray (Type B)

Iron Heart (Music Video)
Arigatou ~Mugen no Yell (°C-ute Ver.)
Arashi wo Okosunda Exciting Fight! (嵐を起こすんだ Exciting Fight!) (°C-ute Ver.)