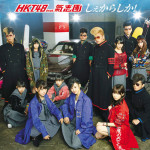 The new single of HKT48 feat. Kishidan entitled Shekarashika! (しぇからしか) will be released on November 25.
This the 6th single of HKT48. It's a collaboration single with the rock band Kishidan (氣志團).
The MV and the covers were unveiled.
The HKT48 senbatsu members are : Anai Chihiro, Kojina Yui, Sakaguchi Riko, Sashihara Rino, Tashima Meru, Tanaka Miku, Matsuoka Natsumi, Kodama Haruka, Yabuki Nako, Ota Aika, Fuchigami Mai, Motomura Aoi, Moriyasu Madoka, Miyawaki Sakura, Tomonaga Mio, Yamashita Emiri.
The central member is Kodama Haruka.
The title Shekarashika! roughly translates to "Shut up!" in a Fukuoka dialect of Japanese.
It was released in four versions: three CD+DVD editions in types A, B, and C and a CD Only theater edition. The title track was used as the theme song for the drama Majisuka Gakuen 0, starring HKT48 and Kishidan.
Watch the music video of Shekarashika! in short version.
Tracklist
Shekarashika! (しぇからしか!)
Tasogare no Tandem (黄昏のタンデム)
Buddy (Team H)
Shekarashika! (Instrumental)
Tasogare no Tandem (Instrumental)
Buddy (Instrumental)
Shekarashika! Music Video
Buddy Music Video
"Majisuka Gakuen 0 Kisazuran Rantou-hen" & Making of "Shekarashika!" MV (「マジすか学園0 木更津乱闘編」SP映像&Making of"しぇからしか!"MV)
Shekarashika! (しぇからしか!)
Tasogare no Tandem (黄昏のタンデム)
Yumemiru Team KIV (夢見るチームKIV) (Team KIV)
Shekarashika! (Instrumental)
Tasogare no Tandem (Instrumental)
Yumemiru Team KIV (Instrumental)
Shekarashika! Music Video
Yumemiru Team KIV Music Video
HKT48 Danketsu BBQ Daikai Zenpen (HKT48団結BBQ大会前編)
Shekarashika! (しぇからしか!)
Tasogare no Tandem (黄昏のタンデム)
Ijiwaru Chuu (いじわるチュー) (Yabuki Nako solo)
Shekarashika! (Instrumental)
Tasogare no Tandem (Instrumental)
Ijiwaru Chuu (Instrumental)
Shekarashika! Music Video
Ijiwaru Chuu Music Video
HKT48 Danketsu BBQ Daikai Kouhen (HKT48団結BBQ大会(後編))
Shekarashika! (しぇからしか!)
Tasogare no Tandem (黄昏のタンデム)
Koi no Yubisaki (恋の指先)
Shekarashika! (Instrumental)
Tasogare no Tandem (Instrumental)
Koi no Yubisaki (Instrumental)
Music Video (PV)