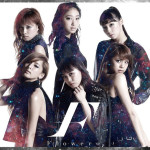 Flower's 11th single Hitomi no Oku no Milky Way (瞳の奥の銀河(ミルキーウェイ)) will be on sale on December 16.
This is the ending theme song for the anime Kindaichi Case Files R (Returns) (金田一少年の事件簿R) airing on Yomiuri TV and Nippon Television.
The MV has been revealed.
It is an unrequited love song. The music is a medium ballad.
In the video, the members of the group are performing contemporary dance for the first time. The aim is to show a new musical universe more artistic and with more dance. The 6 girls express various feelings.
The limited edition has a bonus DVD with the music video and footage from Flower Live Tour 2015 Hanadokei which was held last summer.
The regular editions include a new version of Flower's previous single Hanadokei released in March.
In addition, the J-Pop girl group is participating in a series of promotional events across Japan from November 21 to December 13.
Tracklist
Type A

CD

Hitomi no Oku no Milky Way (瞳の奥の銀河)
Lucky 7 (ラッキー7)
Imagination
Virgin Snow ~Hatsugokoro~ (Virgin Snow ~初心~)

DVD

Hitomi no Oku no Milky Way (Music Video)
Flower Live Tour 2015 Hanadokei (花時計)
Type B / C / D

CD

Hitomi no Oku no Milky Way
Lucky 7
Imagination
Virgin Snow ~Hatsugokoro~
Hanadokei (花時計) (version 2016)
Hitomi no Oku no Milky Way (Instrumental)

Lucky 7 (Instrumental) (Type B)
Imagination (Instrumental) (Type C)
Virgin Snow ~Hatsugokoro~) (Instrumental) (Type D)
Music Video (PV)