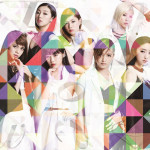 Flower's 2nd album Hanadokei (花時計) will be released on March 4.
This album contains new versions of their singles, new songs and covers of other artists by Flower.
It includes the song Dreamin' Together in collaboration with the English girl group Little Mix.
Check out the music videos.
However, the viewing of the MV for Dreamin' Together feat. Little Mix has been restricted to some countries.
The limited editions come with a 2nd disc featuring covers such as Secret Base ~Kimi ga Kureta Mono~ by Zone, Sweet Memories by Matsuda Seiko… They also include a Blu-ray or a DVD featuring 6 music videos.
The First Press editions include a special photo booklet.
Furthermore, Flower Live Tour 2015 Hanadokei will be held from June. Concerts are scheduled in Sapporo, Tokyo, Nagoya, Osaka and Fukuoka.
Flower's 9th single Sayonara, Alice / Tomorrow ~Shiawase no Housoku~ is on sale since February 18.
Tracklist
 CD 1

Hanadokei ~Party's on!!~ (花時計~Party's on!!~)
Akikaze no Answer (秋風のアンサー) (version 2015)
Aoi Triangle (青いトライアングル)
Sayonara, Alice (さよなら、アリス)
Nettaigyo no Namida (熱帯魚の涙) (version 2015)
Dolphin Beach (version 2015)
Flower Garden (version 2015)
Dreamin' Together feat. Little Mix
Ano Hi no Sayonara (あの日のさよなら)
Spring Has Come
Nanairo Candle (七色キャンドル)
Jikan Ryokou (時間旅行)
Shirayukihime ~orchestra mix~ (白雪姫) (version 2015)
CD 2 (Flower Clock -covers-)

 Secret Base ~Kimi ga Kureta Mono~ (Secret Base ~君がくれたもの~)
Tomorrow ~Shiawase no Housoku~ (Tomorrow ~しあわせの法則~)
Sweet Memories
Koibito ga Santa Claus (恋人がサンタクロース) (version 2015)
Koi ni Ochitara (恋におちたら) (version 2015)
$Baby Don't Cry (Lalah Hathaway)
let go again feat. Verbal (m-flo)
Nando Demo (何度でも) (version 2015)
Blu-ray (Type A) / DVD (Type B)

let go again feat. Verbal(m-flo)
Nettaigyo no Namida
Akikaze no Answer
Sayonara, Alice
Dreamin' Together feat. Little Mix
Music Video (PV)