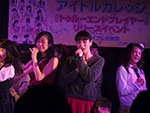 Idol College held a series of live performances between November and December in order to celebrate the release of their latest single True End Player (トゥルーエンド プレイヤー) which is on sale since December 3.
Check out our report and many photos from the live which took place at Akiba Sofmap, Tokyo.
Dozens of fans who bought the single in the store on the same day attended this special event.
In a cheerful atmosphere, the members of Idol College appeared on stage. They were wearing plain clothes.
The opening song was Snow Promenade from their 1st major album Idol College no Tsutaetai Koto (アイドルカレッジの伝えたいこと). The girls showed their dancing skills on a nice choreography.
It was followed by 流星群~meteor steam~. The rhythm was more energetic. Fans could take up the refrain along with the girls.
After that, the members introduced themselves one after the other during the MC.
Only 5 members stayed on stage to perform NG Word ~Kimi ga Suki~ (NGワード~キミガスキ~). This is a lovely and cute pop song. The girls finished charming the audience by making the hand heart gesture at the end.
The other members came back to sing Cherry Girl (チェリーガール).
Then, Idol College performed Myself which is the coupling track of their latest single. It is a dynamic dance rock tune.
The last song was the idol group's new hit single True End Player (トゥルーエンド プレイヤー). Check out the video below.
Before leaving the stage, the members thanked the audience for coming and for their support.
They returned a few moments later for the « encore ». The concert ended with Ano Ko ga, Kami wo, Kiranai Riyuu (あのコが、髪を、切らない理由) which is the previous CD released by the idol group in July.
A surprise event was organized after that. As Minami Chisato turned 23 years old the day before the concert, a flower bouquet and various presents were given to her in order to celebrate her birtday.
After the live, the fans who had bought the CD could meet the members and get a handshake, a 2-shot photo or an autograph of them. It took place in a friendly atmosphere.
Idol College is rising in popularity and we wish them all the best for the future.
Setlist
Snow Promenade
流星群~meteor steam~
-MC-
NG Word ~Kimi ga Suki~ (NGワード~キミガスキ~)
Cherry Girl (チェリーガール)/
Myself
True End Player (トゥルーエンド プレイヤー)
-Encore-
Ano Ko ga, Kami wo, Kiranai Riyuu (あのコが、髪を、切らない理由)
Photos