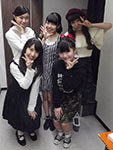 Idol College (アイドルカレッジ) is an idol group growing in popularity in Japan. They made their major debut in 2014 under the label Stand Up! Records.
We had the opportunity to meet them after a live held in Tokyo to promote their latest single True End Player.
Check out our interview with 5 members : Saito Kisaki, Yamaguchi Rie, Inaba Misaki, Shigemoto Eru and Ebihara Yuka.
Could you introduce yourself ?
– We are Idol College !
– I'm Saito Kisaki (齋藤綺咲).
– My name is Yamaguchi Rie (山口りえ).
– My name is Inaba Misaki (稲葉美咲).
– I'm Shigemoto Eru (重本愛瑠).
– My name is Ebihara Yuka (海老原優花).
– Nice to meet you !
What is the concept of the unit ?
– The concept of the group is "Let's develop the future talent/idol together". The goal is to focus on girls with little or no idol activities, We learn to sing, to dance and comedy to gain experience. We promote our personality and popularity through various events.
If each member could describe herself in one word, what would it be ?
– Inaba Misaki : Smile.
– Saito Kisaki : Happy.
– Ebihara Yuka : Jump.
– Shigemoto Eru : Sun.
– Yamaguchi Rie : Serious.
Could you give us some details about your latest single ?
Our single True End Player (トゥルーエンド プレイヤー) is on sale since December 3.
It is the ending theme song for the PlayStation Vita RPG video game Kami Jijigen Game Neptune Re;Birth 3 V Century (神次次元ゲイム ネプテューヌRe;Birth3 V Century).
Please check out the music video. We have cool dance and acrobatics.
The meaning of the lyrics of True End Player is "Looking bright future with you".
What is your best memory ?
– I think that it is our major debut. We signed under a new label (Stand Up! Records) in 2014. Our 1st major single Ano Ko ga, Kami wo, Kiranai Riyuu (あのコが、髪を、切らない理由) was released in July.
What is your goal for the future ?
– We want that everybody knows Idol College. We aim to become some of the famous idols in the world. We hope to have a world concert tour in the future.
Do you have message for foreign fans ?
– Hello ! Maybe you don't know Idol College yet, but you can watch some of our lives. Our performances are very hot and crazy. We give a lot of power and energy.
If we give a concert in a foreign country someday, we would love that you come to see us.
It may be far, but if you can come to Japan to attend our concerts, we would be very happy.
You can watch our videos on our YouTube channel. Please search "idol college" (アイドルカレッジ).
Thank you everybody.
Related article :
Photos