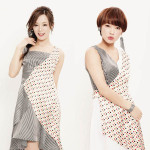 Ichinose Miku and Fukase Chisei announced their graduation from LinQ.
Both girls are going to turn 30 years old soon, and they decided to leave the idol group in June.
Ichinose Miku and Fukase Chisei will pursue solo activities in the entertainment industry as part of Job Net. This taleng agency also manages LinQ.
They debuted 5th years ago as 1st generation members.
In addition, Hoshino Mai and former BudLaB members Seto Kaede and Kaizuki Rana have just joined LinQ as part of the new generation.
The idol group's 13th single Supreme will go on sale on March 23rd.