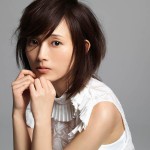 Shortly before the announcement of her marriage, Abe Natsumi, the former idol of Hello! Project, announced her pregnancy.
She is the only 1st generation member of Morning Musume to not have children yet (excepted Fukada Asuka who announced herself she was pregnant last September).
Being in stable situation of pregnancy after 10-12 weeks, this announcement was made by herself and her husband in a press release in February.
« This is good news when two people trying to found a family are blessed with a new life », the couple proudly said.
Abe Natsumi got married with actor Yamazaki Ikusaburou on December 29. She is dating with him since 2011.
We warmly congratulate them this happy event.