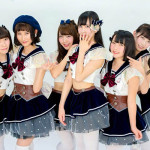 Meguriai (メグリアイ) is a Japanese idol group formed in 2011.
It currently consists of 6 members.
The idol unit is based in Tokyo.
Biography / History
Meguriai released their debut single Furi Muite (ふり向いて) in June 2011.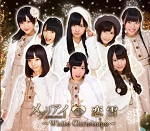 Yamada Nagisa appeared in Girls Short Movie「Queers!!」 in August 2012.
Kitayama Airi withdrew in March 2013.
The event Meguriai Showcase Vol.1 : Watashitachi wo Mite Kudasai (メグリアイ ショーケース Vol.1: 私たちを見て下さい) took place in March 2013
Their 1st eponymous album Meguriai (めぐり逢い) went on sale in April 2013.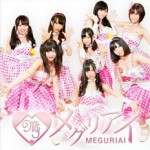 Meguriai 1st Live Emerge (グリアイ 1stワンマンライブ『Emerge』) at Tower Records Shibuya "Cutup Studio" in Tokyo was held in September 2013.
Takada Atsumi and Asahara Momoko graduated in December 2013.
The girls host a radio show on Shimokita FM (下北FM) every Thursday evening.
Okazaki Misato appeared in the stage play Ashita Mahou Kaiden ~Samika wo Machinagara~ (明日魔法外伝 〜サミカを待ちながら〜) in July 2014.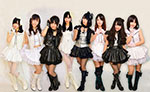 Okazaki Misato and Yamada Nagisa played in the horror movie Kowasugiru Hanashi (怖すぎる話 劇場版) in November 2014.
Otsuka Emika participated in the stage play Itsuka ga Sutekina Cinema no Youni (いつか素敵なシネマのように) in January 2015.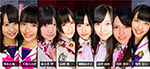 In March 2015, Okazaki Misato won the 2nd Idol Solo Queen Contest (第二回アイドルソロクイーンコンテスト).
Live Hits! Album "Otome no Concerto" (『乙女のコンチェルト』), on sale in April 2015, includes new versions of their greatest hit songs.
Shinjo Kana withdrew in January 2016. She explained that she was not able to manage idol activities and a part-time job at the same time.
Profile
Meguriai (メグリアイ)
Years active : 2011 – present
Label : Anthology Disc
Agency : Starworks
Members
Okazaki Misato (岡崎みさと)
Yamada Nagisa (山田渚)
Shiratori Aika (白鳥愛花)
Nozuki Mai (野月まい)
Otsuka Emika (大塚えみか)
Sakamoto Reina (坂本レイナ)
Former Members
Kitayama Airi (北山愛織)
Sakamoto Jyuri (坂本樹莉)
Takada Atsumi (高田淳美)
Asahara Momoko (浅原桃子)
Yanagi Marin (柳真倫)
Yamanaka Kaho (山中香穂)
Sasaki Mio (佐々木澪)
Shina Nanami (椎名七海)
Shinjo Kana (新城加奈)
Discography
Singles
05/06/2011 : Furi Muite (ふり向いて)
09/09/2011 : Daisuki☆ -Meguriai Summer- (大好き☆ -Meguriai Summer-)
07/03/2012 : Kimi Dake Refrain (君だけRefrain)
03/08/2012 : Daisuki☆ -Endless Summer- 2012 (大好き☆ -Endless Summer- 2012)
12/10/2012 : Candy*Girl
07/12/2012 : Koi Yuki ~White Christmas~ (恋雪 〜White Christmas〜)
04/10/2013 : Mirai e! ~Emerge~ (未来へ!〜Emerge〜)
06/06/2014 : Seishun Akaneiro (青春茜色)
07/08/2015 : Koi Suru Kuisinbou Girl (恋する食いしん坊Girl)
16/01/2016 : Tabidachi no Hi yo ~Sayonara wa Iwanai~ (旅立ちの日よ 〜さよならは言わない〜)
Albums
05/04/2013 : Meguriai (めぐり逢い)
05/06/2015 : Live Hits! Album "Otome no Concerto" (『乙女のコンチェルト』)
Links
News