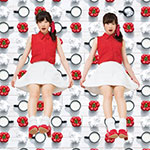 Mika Rika (ミカリカ) is a japanese idol group formed in August 2012.
It consists of 2 members, Mika and Rika, who are twin sisters.
The duo performs hip hop songs.
The idol unit is produced by DJ-S.A.L. from Romantic Production.
Mika☆Rika released their 1st single Funky OL ~Shigoto Shitakunai yo~ (Funky OL ~仕事したくないよ~) in November 2013 under the label SecondFactory.
Profile
Mika☆Rika (ミカリカ)
Years active : 2012 – present
Label : SecondFactory
Agency : –
Discography
Singles
28/11/2013 : Funky OL ~Shigoto Shitakunai yo~ (Funky OL ~仕事したくないよ~)
23/07/2014 : Shitappa (下っ端)
29/04/2015 : Mika☆Rika Quest
Albums
Links
News