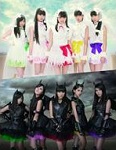 Momoiro Clover Z's Live Momoclo Natsu no Baka Sawagi Summer Dive 2012 Seibu Dome Taikai "Heimen Kakumei" (ももクロ夏のバカ騒ぎSummer Dive 2012 西武ドーム大会「平面革命」) will be released on DVD and Blu-ray on December 24.
The concert was held at Seibu Dome on August 5, 2012.
The limited box sets include bonus DVDs or Blu-ray featuring Momoiro Clover Z's Live at NHK Hall held on June 7 and other video footage from their Summer Dive 2012 Tour.
Setlist
Overture
Wani to Shampoo (ワニとシャンプー)
Push
Otome Sensou (Z女戦争)
DNA Kyoushikyoku (DNA狂詩曲)
Contradiction
D'no Junjou (D'の純情)
Kimi no Ato (キミノアト)
Mirai Bowl (ミライボウル)
Momoclo Dayo! Zenin Shuugou (ももクロだョ!全員集合)
Amenotajikarawo (天手力男)
Kimi to Sekai (キミとセカイ)
Bionic Cherry
Nippon Egao Hyakkei (ニッポン笑顔百景)
Pinky Jones (ピンキージョーンズ)
Roudou Sanka (労働讃歌)
Chai Maxx
Santa-san (サンタさん)
Ikuze! Kaitou Shoujo (行くぜっ! 怪盗少女)
Stardust Serenade (スターダストセレナーデ)
Coco☆Natsu (ココ☆ナツ)
Momoclo no Nippon Manzai! (ももクロのニッポン万歳!)
Kono Uta (コノウタ)
– Encore –
Hashire! (走れ!)
Mouretsu Uchuu Koukyoukyoku Dainana Gakushou "Mugen no Ai" (猛烈宇宙交響曲・第七楽章「無限の愛」)
Orange Note (オレンジノート)
Ano Sora e Mukatte (あの空へ向かって)