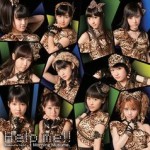 Morning Musume's 52nd single Help Me!! will be released on January 23.
This is the first single from Morning Musume featuring 11th generation member Oda Sakura.
8 editions of the single are available.
The limited editions Type A, B, and C include a bonus DVD featuring music videos and making-of.
Regular Edition Type A
CD

Help Me!!
Suki Da Kara Zettai ni Yurusanai (好きだから絶対に許さない) (Sayashi Riho, Oda Sakura)
Help Me!! (Instrumental)
Regular Edition Type B
CD

Help Me!!
Happy Daisakusen (Happy 大作戦)
Help Me!! (Instrumental)
Limited Edition Type A
CD

Help Me!!
Happy Daisakusen (Happy 大作戦)
Help Me!! (Instrumental)
DVD

Help Me!! (Music Video)
Help Me!! (Dance Shot Ver.)
Limited Edition Type B
CD

Help Me!!
Happy Daisakusen (Happy 大作戦)
Help Me!! (Instrumental)
DVD

Help Me!! (Music Video)
Help Me!! (Close-up Ver.)
Limited Edition Type C
CD

Help Me!!
Happy Daisakusen (Happy 大作戦)
Help Me!! (Instrumental)
DVD

Help Me!! (Music Video)
Wakuteka Take a Chance (ワクテカ Take a Chance) (Oda Sakura Ver.)
Help Me!! (Making-of)
Limited Edition Type D
CD

Help Me!!
Aishuu no Romantic (哀愁のロマンティック) (Michishige Sayumi, Fukumura Mizuki)
Help Me!! (Instrumental)
Limited Edition Type E
CD

Help Me!!
Watashi no Dekkai Hana (好きだから絶対に許さない) (Tanaka Reina, Iikubo Haruna, Ishida Ayumi)
Help Me!! (Instrumental)
Limited Edition Type F
CD

Help Me!!
Nani wa Tomo Are (なには友あれ) (Ikuta Erina, Suzuki Kanon, Sato Masaki, Kudo Haruka)
Help Me!! (Instrumental)
Morning Musume – Help Me!! (MV)
Morning Musume – Help Me!! (Dance Shot Ver.)