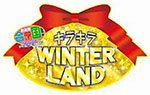 Idoling!!! and Nogizaka46 will participate in Fuji TV's winter event Odaiba Gasshuukoku presents Kira Kira Winter Land (お台場合衆国 presents キラキラ Winter Land).
This event will be held from December 15 to January 6 in Fuji TV Headquarters, Tokyo.
Some members of Idoling!!! will hold a show on December 19, 21, 24, 26, 30 and 31.
Nogizaka46 will perform a live on December 20.
S/mileage will also hold a live at Kira Kira Winter Land on December 16.
Schedule
Idoling!!!

Date : 19/12/2012

Time : 13:00 – 14:00
Members : Tonooka Erica (6), Kawamura Yui (12), Hashimoto Kaede (21), Kurata Ruka (22), Takahashi Kurumi (27)

Date : 21/12/2012

Time : 14:00 – 15:00
Members : Nagano Serina (13), Sakai Hitomi (14), Asahi Nao (15), Kikuchi Ami (16), Ojima Chika (26)

Date : 24/12/2012

Time : 13:00 – 14:00
Members : Yokoyama Rurika (9), Nagano Serina (13), Tachibana Yurika (19), Ito Yuna (23), Ojima Chika (26)

Date : 26/12/2012

Time : 13:00 – 14:00
Members : Asahi Nao (15), Kikuchi Ami (16), Hashimoto Kaede (21), Ito Yuna (23), Goto Kaoru (25)

Date : 30/12/2012

Time : 18:00 – 19:00
Members : Nagano Serina (13), Okawa Ai (20), Kurata Ruka (22), Ito Yuna (23), Kiyoku Reia (30)

Date : 31/12/2012

Time : 14:00 – 15:00
Members : Tonooka Erica (6), Asahi Nao (15), Ojima Chika (26), Ishida Karen (28), Tamagawa Ramu (29)
Nogizaka46

Date : 20/12/2012
Time : 14:00 – 14:30
Odaiba Gasshuukoku presents Kira Kira Winter Land

Date : 15/12/2012 – 06/01/2012
Time : 11:00 – 20:00
Venue : Fuji TV Headquarters, Tokyo