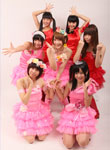 N Zero will release their new single Dogimagi First Love (ドギマギFirst Love) on September 25.
The single includes 2 songs and their instrumental versions.
N Zero was formerly known as AKBN 0 (Akabane 0).
Furthermore, N Zero will hold a one-man live on August 13 to celebrate the 1st anniversary of their debut single.
Tracklist
Dogimagi First Love (ドギマギFirst Love)
Zero Smile (ゼロsmile)
Dogimagi First Love (ドギマギFirst Love) (Instrumental)
Zero Smile (ゼロsmile) (Instrumental)