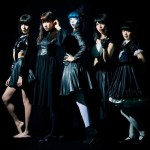 Necronomidol (ネクロノマイドル) is a Japanese idol group formed in 2014.
It currently consists of 5 members.
The unit is based in Tokyo.
Biography / History
As its name suggests, the theme of Necronomidol is extreme darkness.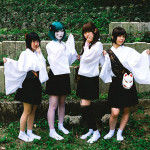 They play black metal, dark wave and NWOBHM (new wave of British heavy metal) songs.
On stage, the girls bring the audience to a parallel universe through their performance.
The idol group was formed in March 2014. The 4 original members were Henmi Setsuko, Sari, Tachibana Ruu and Kakizaki Risaki.
Necronomidol held their 1st live in June 2014 at the Muryoku Muzenji in Tokyo.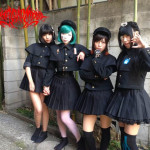 Their 1st single Ikotsu Mofubuki (遺骨猛吹雪) was released in the same month.
Tsukumo Hotaru was recruited in December 2014.
Henmi Setsuko announced her graduation due to poor physical health in January 2015.
The monthly show Aku no Chubomi (悪のちゅボミ) started in January 2015.
Tachibana Ruu graduated in April 2015.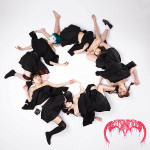 Kusaka Karen and Yotsuyu Hina joined the idol group in May 2015.
Necronomidol's 1st one-man live took place in June 2015 at Sound Studio DOM. This event celebrated the first anniversary of their debut.
They gave concerts in Taiwan in September 2015.
The girls collaborated with Kago Shintaro to create Line stickers in January 2016.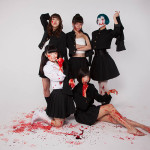 Their 1st album Nemesis went on sale in February 2016. It includes the song Nayenezgani.
Necronomidol held live shows in New Caledonia in March 2016.
The EP from chaos born, on sale in June 2016, includes 6 songs.
The cover illustrations of their CDs have been designed by famous manga artists such as Senno Knife, Kago Shintaro Suehiro Maruo, Maeda Toshio.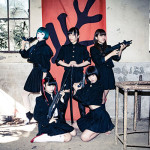 Tsukumo Hotaru is going to leave Necronomidol in November 2016 in order to focus on studies at university.
Profile
Necronomidol (ネクロノマイドル)
Years active : 2014 – present
Label : –
Agency : –
Members
Kakizaki Risaki (柿崎李咲)
Sari (瑳里)
Tsukumo Hotaru (九十九ほたる)
Kusaka Karen (久坂華恋)
Yotsuyu Hina (夜露ひな)
Former Members
Henmi Setsuko (逸見静羅)
Tachibana Ruu (

橘涙雨

)
Discography
Singles
01/06/2014 : Ikotsu Mofubuki (遺骨猛吹雪)
12/11/2014 : Reikon Shoumetsu (霊魂消滅)
22/04/2015 : Etranger
30/09/2015 : Exitium
15/06/2016 : from chaos born
Albums
Links
News