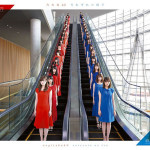 Nogizaka46 released their 2nd album on May 25.
It's entitled Sorezore no Isu (それぞれの椅子).
The album contains the singles released recently : Inochi wa Utsukushii, Taiyou Knock, Ima, Hanashitai Dareka ga Iru et Harujion ga Saku Koro.
It is released en severel editions A, B, C and D.
The edition A contains a CD only and the other editions contains a CD a DVD extra.
The tracklists are diffrent depending on the edition. The songs are not the sames from the 9th track.
Tracklist
Inochi wa Utsukushii (命は美しい)
Taiyou Knock (太陽ノック)
Ima, Hanashitai Dareka ga Iru (今、話したい誰かがいる)
Harujion ga Saku Koro (ハルジオンが咲く頃)
Kikkake (きっかけ; Trigger)
Taiyou ni Kudokarete (太陽に口説かれて)
Yokubou no Reincarnation (欲望のリインカーネーション)
Kanashimi no Wasurekata (悲しみの忘れ方)
Kuukikan (空気感)
Kougousei Kibou (光合成希望)
Muhyoujou (無表情)
Arakajime Katarareru Romance (あらかじめ語られるロマンス)
Sukima (隙間)
Kyuushamen (急斜面)
Hane no Kioku (羽根の記憶)
Nogizaka no Uta (乃木坂の詩)
Inochi wa Utsukushii (命は美しい)
Taiyou Knock (太陽ノック)
Ima, Hanashitai Dareka ga Iru (今、話したい誰かがいる)
Harujion ga Saku Koro (ハルジオンが咲く頃)
Kikkake (きっかけ)
Taiyou ni Kudokarete (太陽に口説かれて)
Yokubou no Reincarnation (欲望のリインカーネーション)
Kanashimi no Wasurekata (悲しみの忘れ方)
Threefold choice
Teitaion no Kiss (低体温のキス)
Harukanaru Bhutan (遥かなるブータン)
Popipappapa (ポピパッパパー)
Seifuku wo Nuide Sayonara wo… (制服を脱いでサヨナラを…)
Yuuutsu to Fuusen Gum (憂鬱と風船ガム)
Tachinaorichuu (立ち直り中)
Nogizaka no Uta (乃木坂の詩)
Inochi wa Utsukushii (命は美しい)
Taiyou Knock (太陽ノック)
Ima, Hanashitai Dareka ga Iru (今、話したい誰かがいる)
Harujion ga Saku Koro (ハルジオンが咲く頃)
Kikkake (きっかけ)
Taiyou ni Kudokarete (太陽に口説かれて)
Yokubou no Reincarnation (欲望のリインカーネーション)
Kanashimi no Wasurekata (悲しみの忘れ方)
Shitsuren Shitara, Kao wo Arae! (失恋したら、顔を洗え!)
Kakigoori no Kataomoi (かき氷の片想い)
Otona e no Chikamichi (大人への近道)
Kimi wa Boku to Awanai Hou ga Yokatta no Kana (君は僕と会わない方がよかったのかな)
Wakaregiwa, Motto Suki ni Naru (別れ際、もっと好きになる)
Shitto no Kenri (嫉妬の権利)
Futougou (不等号)
Nogizaka no Uta (乃木坂の詩)
Inochi wa Utsukushii (命は美しい)
Taiyou Knock (太陽ノック)
Ima, Hanashitai Dareka ga Iru (今、話したい誰かがいる)
Harujion ga Saku Koro (ハルジオンが咲く頃)
Kikkake (きっかけ)
Taiyou ni Kudokarete (太陽に口説かれて)
Yokubou no Reincarnation (欲望のリインカーネーション)
Kanashimi no Wasurekata (悲しみの忘れ方)
Kanjou Rokugousen (環状六号線)
Kuchiyakusoku (口約束)
Romantic Ikayaki (ロマンティックいか焼き)
House! (ハウス!)
Sonna Baka na… (そんなバカな・・・)
Shakiism (シャキイズム)
Romance no Start (ロマンスのスタート)
Nogizaka no Uta (乃木坂の詩)