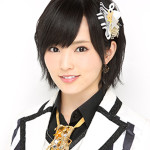 Yamamoto Sayaka announced her departure from AKB48 Team K.
This announcement was made by herself on May 26th at NM48 Theater in Osaka during a live performance.
Sayanee specified to continue her activities with her debut group NMB48 which she is a member of the 1st generation and the captain.
Indeeed, after the graduation of Watanabe Miyuki from NMB48 in April, she decides to cancel her double position (kennin) with AKB48 and NMB48, and contribute to the NMB48's success. she had a discussion with the producer of the 48 groups, Akimoto Yasushi, and he accepted her decision.
Matsui Jurina also did the same in Octovber 2015, leaving AKB48 to ficus her activities with SKE48, after Matsui Rena's graduation.
Sayanee joined AKB48 in March 2014 after a team shuffle.
Furthermore, NMB48 released their new single Amagami Hime (甘噛み姫) last April.