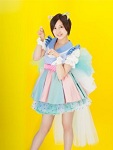 Ono Erena's 2nd solo single Erenyan (えれにゃん) will be released on October 3.
The lyrics of the title song were written by Ono Erena (ex AKB48) herself.
The limited editions come with a DVD featuring a music video and/or a making-of depending on the version.
All editions include a trading card randomly selected from 5 kinds.
Regular Edition
CD

Erenyan (えれにゃん)
Aa, Subarashiki Nyan-sei (嗚呼、素晴らしきニャン生)
Senbonzakura (千本桜)
Erenyan (えれにゃん) (Instrumental)
Limited Edition (Type A)
CD

Erenyan (えれにゃん)
Aa, Subarashiki Nyan-sei (嗚呼、素晴らしきニャン生)
Senbonzakura (千本桜)
Erenyan (えれにゃん) (Instrumental)
DVD

Erenyan (えれにゃん) (Music Video)
Erenyan (えれにゃん) (Making of)
Limited Edition (Type B)
CD

Erenyan (えれにゃん)
Aa, Subarashiki Nyan-sei (嗚呼、素晴らしきニャン生)
Senbonzakura (千本桜)
Erenyan (えれにゃん) (Instrumental)
DVD

Aa, Subarashiki Nyan-sei (嗚呼、素晴らしきニャン生) (Music Video)
Limited Edition (Type C)
CD

Erenyan (えれにゃん)
Takaramono (たからもの)
Senbonzakura (千本桜)
Erenyan (えれにゃん) (Instrumental)
Takaramono (たからもの) (Instrumental)
DVD

Takaramono (「たからもの」のレコーディングやジャケット写真撮影メイキング映像) (Making of recording and jacket photo shooting)
Limited Edition (Type D)
CD

Erenyan (えれにゃん)
Aa, Subarashiki Nyan-sei (嗚呼、素晴らしきニャン生)
Senbonzakura (千本桜)
Erenyan (えれにゃん) (Instrumental)