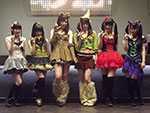 Oz (オズ), also known as the The Wonderful Alice of Oz, is a Japanese idol group formed in 2012. It currently consists of 9 members including 2 Kenkyuusei.
Oz is part of Alice Project. The unit is a sister group of Alice Juban, Steamgirls, and Machikado Keiki Japan.
The group's name and its costumes come from The Wonderful Wizard of Oz.
The members participate in the sub-units Pureful, Soup Girls, and White Milk.
They perform regularly at P.A.R.M.S. Theater in Akihabara, Tokyo.
Profile
Oz (オズ)
Years active : 2012 – present
Label : –
Agency : Kleeblatt
Members
Current Members
Sato Nanase (佐藤七彩)
Yuuki Meru (結城める)
Himukai Yuuna (日向夕奈)
Asakura Ayaka (朝倉彩花)
Suzumura Airi (鈴村愛理)
Hoshi Aina (星愛奈)
Inaba Renka (稲葉恋花)
Kenkyuusei
Hoshino Rinka (星野梨花)
Sakamoto Mana (坂本舞菜)
Discography
Singles
Natsu Da ne☆ (夏だね☆)
Days
Mirai no Hikari (未来ノヒカリ)
Rapu♡Rapo (ラプ♡ラポ)
Albums
Links
News