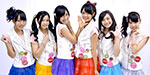 Pramo (プラモ) is a Japanese idol group formed in 2011. It currently consists of 6 members.
They also have some activities as models. Each one of them has been assigned a color.
The unit is based in Akita Prefecture.
In August 2010, 5 girls passed the audition to create Pramo : Seren, Mayu, Komugi, Sonoka, and Miyu.
Mayu and Komugi host the radio show pramo+ (プラモプラス) on AFM since April 2011.
In March 2012, Sonoka and Miyu graduated. 2 new members, Aoi and Misaki, joined Pramo.
In 2013, they made an appearance in the movie Tooku de Zutto Soba ni Iru (遠くでずっとそばにいる) as high school students.
Between March and April 2013, Marina, Yuuka, and Ayano were added to the  group.
Misaki joined a new idol unit, Aither, in June. However, she continued her activities with Pramo on the same time.
Marina had to stop her career in August 2013 due to poor physical condition.
In September 2013, Misaki left Pramo in order to work only with Aither.
The fan club is called "pramonista".
Mayu participated in the special units Locodol Daisakusen Team Tsunagi Joshi (ロコドル大作戦チームつなぎ女子), Locodol Daisakusen Team Haikara-san (ロコドル大作戦 チーム ハイカラさん), and Locodol Daisakusen Team Tsunderella Girls (ロコドル大作戦 チームツンデレラガールズ) along with some members of other local idol groups (Fruity, HR, Snow Drop, Jewel Kiss, MKM-Zero, …).
Profile
Pramo (プラモ)
Years active : 2011 – present
Label : Dacee Entertainment
Agency : Dacee Entertainment
Members
Seren (せれん) (Purple), leader
Mayu (まゆ) (Red)
Komugi (こむぎ) (Yellow)
Aoi (あおい) (Blue)
Yuuka (ゆうか) (Light Blue)
Ayano (あやの) (White)
Former Members
Sonoka (そのか)
Miyu (みゆ)
Misaki (みさき) (Pink)
Marina (まりな) (Green)
Discography
Singles
08/08/2011 : Jidai wo Hajimeru yo! (時代をハジメルよっ!)
03/03/2012 : Tsubomi ~Ikki Hajimekai~ (ツボミ~一期一会~)
18/08/2012 : Matsuri Dazei!! / I Can, You Can! ~Yareba Dekiru~ (祭りだぜぃ!! / I Can, You Can! 〜やれば出来る〜)
25/01/2013 : Shindere Love! (シンデレLove!)
14/09/2013 : Fighting Pose
Albums
Links
News