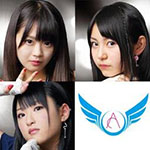 Aither is a Japanese idol group formed in June 2013. It currently consists of 3 members.
Konno Yuuka and Tsujimura Airi are former members of Party Rockets.
Misaki was part of Pramo. She worked with both idol units between June and September 2013.
Aither's debut single Future Way was released in July 2013.
Aither is going to participate in Idol Matsuri in Silverdale, Washington, USA, in June 2014.
Profile
Aither
Years active : 2013 – present
Label : –
Agency : Deja Vu
Members
Konno Yuuka (金野優花)
Tsujimura Airi (辻村愛璃)
Misaki (みさき)
Discography
Singles
03/07/2013 : Future Way
19/10/2013 : You & I
Albums
Links
News