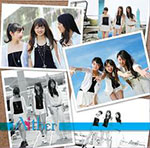 Aither's new single Future Way will be released on July 3.
This is the debut single from Aither.
Future Way includes 4 different songs. Only one edition is available.
2 songs, Re:start and Sou!! (爽!!), have been released on YouTube.
Aither is a new idol group consisting of former members from Party Rockets and Pramo.
Tracklist
Spotlight
Summer Paradise
Re:start
Sou!! (爽!!)