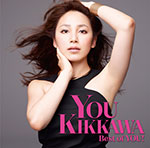 Kikkawa You's new album Best of You will be released on August 7.
As its title suggests, this album contains 15 songs including her greatest hits since her debut.
It also includes the CM song performed with Kimaguren for Cafe Ole as Kikkaren, and a new one, Hachigatsu no Hanabi (八月の花火), produced by this group.
The limited edition comes with a bonus DVD featuring a documentary on Kikkawa You.
Tracklist
CD

Hachigatsu no Hanabi (八月の花火)
Hapirapi ~Sunrise~ (ハピラピ~Sunrise~)
Konna Watashi de Yokattara (こんな私でよかったら)
Time to Zone
Koko kara Hajimarunda! (ここから始まるんだ!)
Sweetie
Darling to Madonna
Sekaichuu ni Kimi wa Hitori Dake (世界中に君は一人だけ)
17 Sai (17才)
Sotsugyou (卒業)
To Be…
Kikkake wa You! (きっかけはYou!)
Sayonara Namida (さよなら涙)
Zutto Zutto Zutto Kimi ga Suki Da (ずっとずっとずっと君がスキだ)
Cafe Ole no Uta (カフェオーレのうた) (Kikkaren)
DVD (Limited Edition)

Live History of You Kikkawa