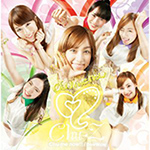 Chu-Z will release their new single Chu Me Now!! / Bow Wow on July 10.
This is the 2nd single from Chu-Z. It is a double A-side.
A video recorded during the live Yume ni Mukatte Bakusin Chu Vol.2 (夢に向かって爆進Chu-♥ Vol.2) held on May 14 at Omotesando Ground in Tokyo has been released.
It is a limited edition available only on Shinseido store.
The CD includes 2 songs and their instrumental versions.
Tracklist
Chu Me Now!!
Bow Wow
Chu Me Now!! (Instrumental)
Bow Wow (Instrumental)
Video (Live)