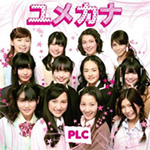 PLC (Pearl Lady Club) will release their debut single Yumekana! (ユメカナ!) on July 3.
The CD contains 2 songs and their instrumental versions.
The music was composed by Oonuki Takeshi. The lyrics were written by Fujita Yoshihide.
PLC (パールレディクラブ) is an idol group formed in January 2013 to promote the crepe shops Pearl Lady.
Tracklist
Yumekana! (ユメカナ!)
Negaigoto Mata Hitotsu (ねがいごとまたひとつ)
Yumekana! (ユメカナ!) (Instrumental)
Negaigoto Mata Hitotsu (ねがいごとまたひとつ) (Instrumental)
Music Video (PV)